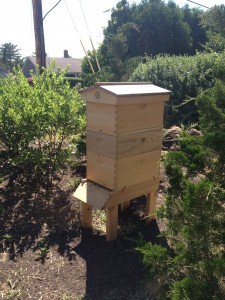 Today I added a Super to make room for growth. While the typical swarming season is behind us, the ladies seem very busy, and almost out of the room. There are still three frames of wax foundation in their original hive that they have not expanded horizontally into, but I've read bees like to go vertically up when expanding, and sometimes will ignore more room on another horizontally placed frames.
I debated over and over on using wax foundation for this super, or going without foundation. In the end, I used the wax foundation as I decided this super would be dedicated to the bees, and I won't be harvesting any honey from this super. Thus the wax foundation, and the small wires within it, won't be eaten or disturbed.
Now I get to bite my nails for 14 days and hope they will accept the wax foundation as just that – a foundation for their expanded home. I've read sometimes bees just don't like wax foundation and prefer to build their own; a resource consuming process. Here's to hoping they find it a welcome addition to their Deluxe Apartment in the Sky.