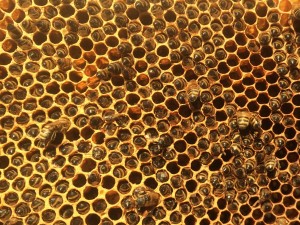 A check of the hive on Feb 22 made me nervous. Even though it was about 55F when I went to check the hive, there was no sign of bees. Unusual, as I would have expected a few cleansing flights, but I didn't even see traces of bee-poop in the bit of snow in front of the hive. Nervously, I put my ear to the hive and heard nothing. With a deep sigh, I steeled myself, and opened the hive.
What I saw brought me to tears – a dead colony that I had worked so hard to nurture. They died on the comb, thousands still in a cold cluster, hundreds "butt out" of the comb. There was 40-60 lbs of honey in their comb by the end of Oct, and not a drop when I opened the hive in Feb. The sugar was visually untouched, with just 5 bees clinging to it. I am sure they died of starvation from lack of honey, but not from the 5 lbs of sugar an inch above them (mountain camp method).
My guess, after talking with a number of beekeepers, is that while the official cause is "starvation", the details are a little more complicated. There was plenty of emergency food (sugar) for them, but it was so cold that they couldn't/wouldn't break cluster to go and get it. I would label this starvation due to excessive cold, not starvation due to lack of food.
Heartbreaking, but I know this is part of beekeeping in New England. I will start again with a new local queen this Spring, and raise them up; this time working toward a critical mass of bees – around three colonies.